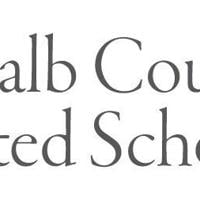 DeKalb Central Holds Public Budget Hearing | The star
WATERLOO — The DeKalb Central School Board held a public hearing Tuesday into the district's $42.27 million budget for 2023.
The announced expenditures include: $25.42 million in the education fund; $10 million in the operating fund; $5.84 million in the debt service fund; and $1 million in the rainy day fund.
Of the estimated $42.27 million, an estimated maximum of $14.03 million will be raised through property taxes, according to the budget. This includes $5.89 million for the debt service fund and $8.13 million for the operating fund.
In a presentation to the Board, Chief Financial Officer Steve Snider said the budget assumptions included: a 3.4% increase in education fund revenue using an estimate of the funding formula and the number students; a 4% salary increase; continuation of facility assessment projects to the extent possible with operating funds; and a transfer of $500,000 from education to operations.
Snider said DeKalb and Steuben counties have now released their certified assessments and the district's assessed value growth was 13.75%.
"Using this information, together with the average home price in DeKalb County – according to rockethomes.com – of $185,000 in 2022 and if it increases by an average amount of 13.75%, the value in 2023 will be $210,458," Snider said.
With the 13.75% growth in assessed value, revenue will result in an estimated rate reduction of $0.89 to $0.81. For an average home value of $210,438, that would mean a slight increase of $58 a year in property taxes paid to the school district, Snider said.
Snider noted that education fund spending is 60% of the announced budget. Salaries and benefits represent more than 90% of this fund.
Operations fund spending is 24% of the budget, debt servicing fund spending is 14% of the budget, and rainy day fund spending is 2% of the budget, Snider noted.
Snider noted that the Ministry of Local Government Finance advises to publish high levies and rates and that they will be reduced by the DLGF during the budget review process.
The board also approved the release of a plan for capital projects and for all proposed projects and acquisitions that exceed $10,000 and are expected to begin in 2023-25. Among the projects listed in the plan are: after-school high school improvements, $6.13 million; college laminate interior door replacement, $500,000; Repairs to the exterior doors of the Waterloo Elementary School building, $284,000; middle school HVAC upgrades, $2.1 million; middle school roof and building exterior repairs, $3.19 million; and media center upgrades, $2.5 million; neighborhood furniture updates, $300,000; district technology upgrades, $300,000; and high school locker room renovations, $100,000.
At the end of Snider's presentation, Board Chair Heather Krebs opened the hearing for public comment, but no member of the public spoke. The budget will be adopted at the October 13 meeting.
Also Tuesday evening:
• The Board of Directors approved the advertisement for a closed bidding process for the purchase of 1,025 Chromebooks. As in previous years, the district will use older Chromebooks and purchase new systems for three grade levels, Snider said.
The method of payment will depend on the results of an ongoing federal grant. Snider said if the grant did not materialize, he would offer to fund them with a three-year lease through Indiana Bond Bank's HELP program.
Bids will be due after the October board meeting, with the results presented to the board at a special meeting on Oct. 27 at 7 a.m., Snider added.
• The board approved a request from Carrie Wisehart, Associate Principal of DeKalb High School and New Tech Director, to lead an international trip to London, Paris and Venice in the summer of 2023. The dates of the trip will be June 26 to July 4 and all current DeKalb High School students and parents or guardians can participate.
The cost will be $4,941, which includes airfare and transportation, daily breakfast and three-course dinner, admission to sites and activities, medical and travel insurance, accommodation and an attendant. There will be one accompanying adult for every 8 to 10 students. Students will also receive three college credits upon completion of an online course.
• Krebs reported that Country Meadow is fundraising for new playground equipment and there is pressure to buy before prices rise. Several donations for the playground were included in the report of donations received since the August 16 meeting. Krebs announced that a total of $100,480 in donations have been received since then, including $50,000 from Steel Dynamics Inc., for high school strength and conditioning; $10,000 from Herff Jones LLC, for high school strength and conditioning; and $24,000 and $5,000 from Auburn Essential Services for Baron TV. Krebs said Waterloo is also fundraising for its playground.
• Superintendent Steve Teders announced that, for the first time, the district will have an entry in the DeKalb County Freefall Fair Parade. Staff, board members and families are encouraged to participate, either aboard a "float," which will be one of the district's new propane buses, or on foot. Leaflets containing information about the neighborhood will also be distributed.
• On personnel matters, the board accepted the retirement of Country Meadow secretary, Tonya Buchs. The board also accepted the resignations of: Amanda Dunaway, JR Watson Elementary School paraprofessional; college paraprofessional Arita Gonzalez; Kathy Fribley, catering worker at the college; McKenney-Harrison Elementary School paraprofessional Meghan York; bus driver Rachael Martin; Terri Irons, food and bus service assistant; and second assistant high school wrestling coach Wyatt Hurst.
The board approved the nominations of: Amanda Kelley, high school learning lab paraprofessional; Chris Adamisin, co-director of the high school jazz band; the Technical Department Network and Technical Specialist Eric Hart; Angela Bell, head of the college's intramural cooking club; McKenney-Harrison paraprofessional Kaylee Spade; Lori Myers, Waterloo foodservice worker; Country Meadow paraprofessional Mackenzie Cox; Joann McKown, food service worker from Waterloo; James Merritt, student tech device coordinator; food service replacement Sarah Reasner; Country Meadow paraprofessional Shannyn Howard; Steve Creech, part-time college caretaker; Country Meadow Secretary Tabitha Cagle; high school baseball assistant coaches Brandon Park and Sam Rykard; Tycius Getts, Principal of the Boys' Secondary School and Girls' Assistant Swim Coach; Mallory Jarrett, Principal of the Girls' Secondary School and Assistant Boys' Swimming Coach; Pauline Gowins, High School Unified Club Winter Sponsor; high school custodian Angelica Fodge; Country Meadow Secretary Alison Yankey; Secondary 1/2 Pat McMullin Assistant Athletic Director; food service substitute Brenda Trowbridge; and Erin Shull, a catering worker at the college.