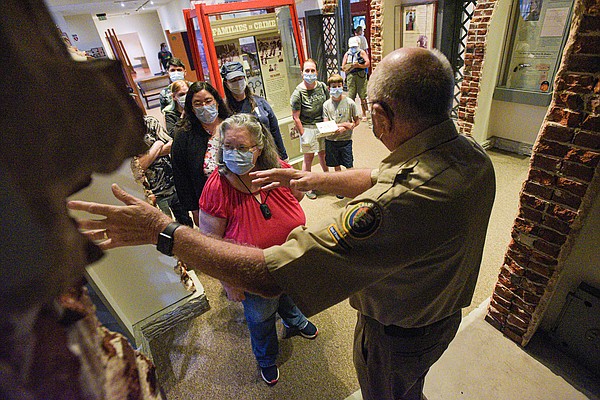 Official says tourism is returning to pre-pandemic numbers in Arkansas, discusses plans for the future
FORT SMITH — The state's tourism numbers have rebounded from the pandemic, according to the director of Arkansas Tourism.
Travis Napper met with the Fort Smith Advertising and Promotions Commission on Thursday to discuss the economic impact of 2021 and what is being done to improve tourism statewide. He said the overall theme is The Future is Bright for Arkansas.
Napper said nearly 90% of Arkansas' tourism money comes from the 2% lodging tax, which has topped the record every quarter this year. He said collections for the last five or six months in a row had been records for this month, with June being the best month on record for collection.
Napper said global collections benefit local tourism and hospitality and vice versa. He said the new normal in tourism is at a faster pace than it was before covid-19.
Tourism spending returned to around $8 million, a 33% increase from 2020, and visitor volume increased by 41%. Hot Springs National Park is among the 40 most visited parks in the country, Napper said.
Even lower than 2019 is the hotel and tourism employment rate, which is 5% lower than 2019 but 23% higher than 2020.
"Despite a 5% decline in the number of jobs we create, we increased the payroll related to those jobs by just over 1%," Napper said. "When we talk about recruiting or keeping these kinds of jobs in the future, one of the most important things has always been that the salary level is low. So the fact that we have clawed back on the mass salary but that we haven't recovered on the number of people, that's a good sign, which hopefully will improve our ability to keep people in those jobs in the future."
Napper said Arkansas Tourism received a grant from the Economic Development Administration to create a plan to see how state tourism can work better and what to consider for the future.
Tim Jacobsen, executive director of the Fort Smith Arkansas Convention and Visitors Bureau, said the city is hosting a meeting for the new plan from 9 a.m. to 11 a.m. Thursday at the convention center, primarily to discuss travel and tourism. The office is also working with the state to bring bloggers, travel writers and influencers to the river valley to share the region's tourism opportunities with their followers, he said.
Arkansas Tourism is working with destination analysts on personal identification software, which is a survey of potential and existing travelers to rank them based on their interests to better market those interests, as well as see what areas might be improved, Napper said.
"So you could have your family travelers, adventure travelers, RV travelers, park buffs, history buffs, foodies, whoever they are, and through this survey, you'll learn what resonates most and best with those we have to offer in Arkansas," Napper said.
"I believe our residents come first, as what we produce is good for our residents in terms of this tax, but also quality of life. The things that bring visitors here are the same things that our locals like to participate and experiment. and done."